Spring is only just around the corner, 2013 is all about playful nails, naturally coloured hair and contouring make up.
Jessica colours such as Soak up the sun and Juicy Melon are going to be big this season. Matching toes and finger nails are back however wearing open toe shoes might have to wait a while! We are still loving gel polish manicures due to there hard wearing, long lasting finish.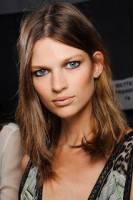 Contouring make up  gives you a fresher, more defined look. Raising those cheek bones, high lighting your eyes, making your whole face appear brighter. Big filled eye brows are still making an appearance, if your going for soft make up use a brow power to lightly define.
Browns and caramels are great eye shadow colours, giving you a softer more versatile look.
Show off your roots – grown out or dipped dyed hair is still super cool. Ballerina buns and messy up do's are quick and smart for work.
What ever look you go for this season, feel confident on the inside and you will blossom on the outside!